Five Valleys and Good Sixty announce plans for new home delivery service supporting Stroud's independent food producers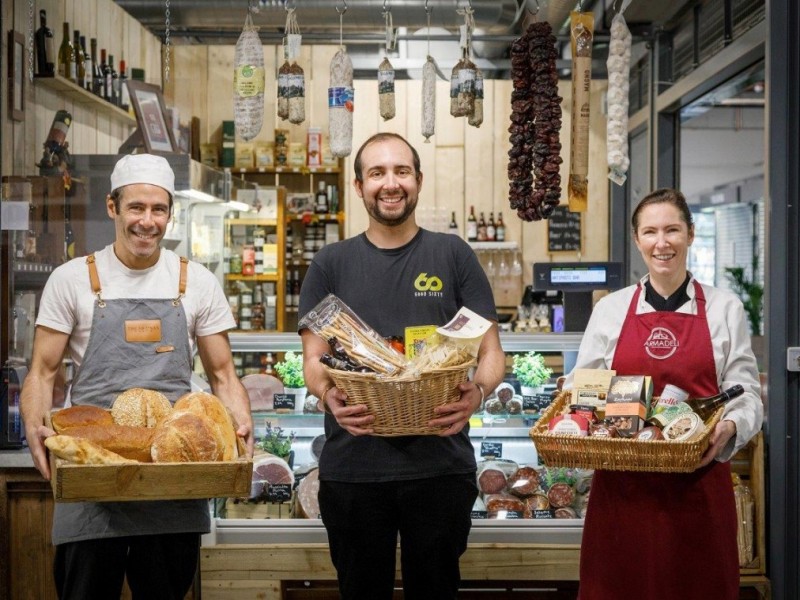 « Back to news
Five Valleys and Good Sixty announce plans for new home delivery service supporting Stroud's independent food producers
27 November 2020
The team at Stroud's Five Valleys shopping centre are launching a partnership with the home delivery platform Good Sixty to offer a bespoke service at the centre's new indoor market.

The specially tailored website allows customers to browse the products available at Five Valleys Market and select a home delivery slot to suit them. By using Good Sixty, shoppers can buy from a variety of local shops online in a single purchase, and have it delivered to their door in one zero emissions drop.

The new service will launch on Monday 30th November and the first deliveries will be available on Monday 7th December.

The new Five Valleys Market concept has been inspired by London's Borough Market with a unique line up of local artisan traders selling everything from handmade chocolates to pies, bread, homemade beers cheeses and meats.

The market has opened throughout the summer in phases with a strong line-up of food to go and local producers. All food and produce is available now for home delivery by Good Sixty.

Good Sixty was founded in Bristol in 2016 to support small food retailers and producers – giving independent companies the chance to compete with supermarkets and take their products online.

It is a format which has been operating successfully at Borough Market since last year as well as in Bath Bristol and Oxford where the company works with more than 50 independent retailers and producers. Deliveries are made by electric bikes or electric vans in the striking Good Sixty livery.

Centre manager at Five Valleys, Dionne Moore, said: "We are so excited to be working with Good Sixty to offer a home delivery service for our market traders.

"Throughout this year and particularly during the lockdowns having access to home delivery has become hugely important for many people and it's something we're really keen to offer customers through the Five Valleys market."

Chris Edwards from Good Sixty added: "We are really pleased to bring Good Sixty to Stroud, working with the fantastic local traders at the Five Valleys Market. It's never been more important to connect customers with their local independent producers than now, delivering a truly sustainable way of shopping that brings huge benefits to the community."

Traders at the market include Armadeli, Waghornes Butchers, the Artisan Baker, Pershore Seafood, Xocolatl and The Lily Pad. There's also a great line up of food to go traders including Falafel Mama, Thai 2 Go and Non Solo Italian.
To make an order with Good Sixty visit www.goodsixty.co.uk

To keep up to date with news and opening dates at Five Valleys visit www.fivevalleysstroud.co.uk
EDITORS NOTES
Good Sixty was created in Bristol by Chris Edwards. Chris grew up on Bristol's Gloucester Road, a famously independent high street that he realised was increasingly under threat from major retailers, online giants and the rise of national veg, meat and meal-kit box schemes. From launch in late 2016, Good Sixty steadily built up a loyal community of retailers and shoppers who saw the many benefits that the site had to offer.
Good Sixty's vision 'to create wealthier, healthier, better connected communities is reflected in the name, Good Sixty. According to a study at Harvard Business School, there is a 60% greater economic benefit to your community if you choose to shop in a local independent store rather than a large supermarket.
Five Valleys is a shopping centre in the heart of Stroud undergoing a major redevelopment by the South Yorkshire retail specialists Dransfield Properties Ltd. The project is part funded by GFirst LEP. The new market area at Five Valleys houses 20 new indoor permanent market stalls in the main mall area.
For further information, contact:-
Public Relations Department, Dransfield Properties Ltd
Tel: 01226 360644
Email: admin@dransfield.co.uk