FIVE VALLEYS TEAM LAUNCH MONTHLY CRAFT MARKET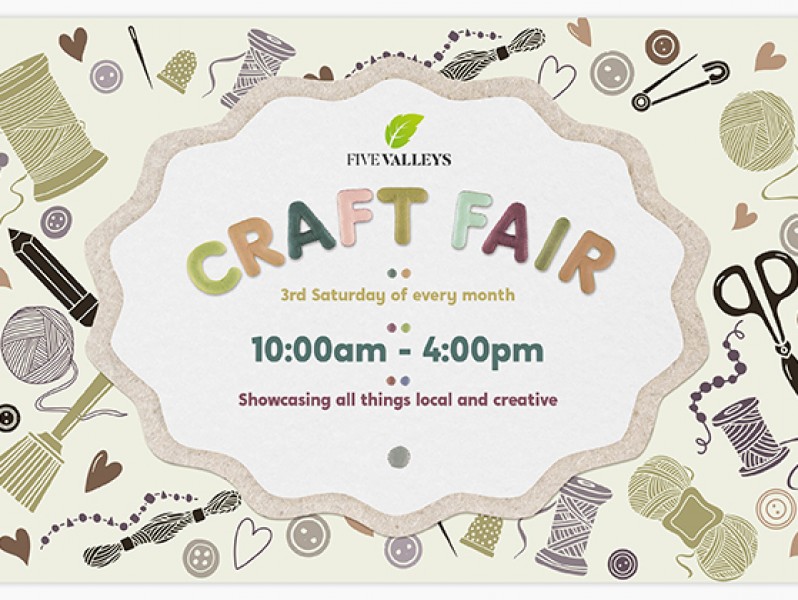 « Back to news
FIVE VALLEYS TEAM LAUNCH MONTHLY CRAFT MARKET
21 May 2019
The team at Five Valleys are celebrating all things local and creative this weekend when the centre stages its first newly launched Craft Fair.
The monthly event will take place on the third Saturday of every month, in May falling on Saturday 25th May.
The event will be held from 10am until 4pm in the mall area at Five Valleys – the centre is currently undergoing a major refurbishment and improvement programme. The monthly Craft Market is being organised to celebrate and showcase the work of some of Stroud's popular crafters.
Stallholders taking part in this weekend's event include Prosecco Love and Katie's Paper Cuts as well as Paper Lane Boutique. Celestial Light Gifts will also be taking part in the craft event as well as Cards by Chris and there will be a beautiful array from Christine Nash Beaded Bracelets, Bangles and Baubles.
Centre Manager Dionne Moore said: "We're delighted to be launching our new monthly craft market here at Five Valleys which really is going to be a celebration of all things local and creative.
"We have lots of exciting plans for events at Five Valleys in the coming weeks and months as our plans for the new look centre take place and look forward to sharing more details as our plans progress."
To keep up to date with news and events at Five Valleys visit www.fivevalleysstroud.co.uk
For further information, contact:-
Public Relations Department, Dransfield Properties Ltd
Tel: 01226 360644
Email: admin@dransfield.co.uk