Pieminister joins forces with Forestry England this summer to plant a new forest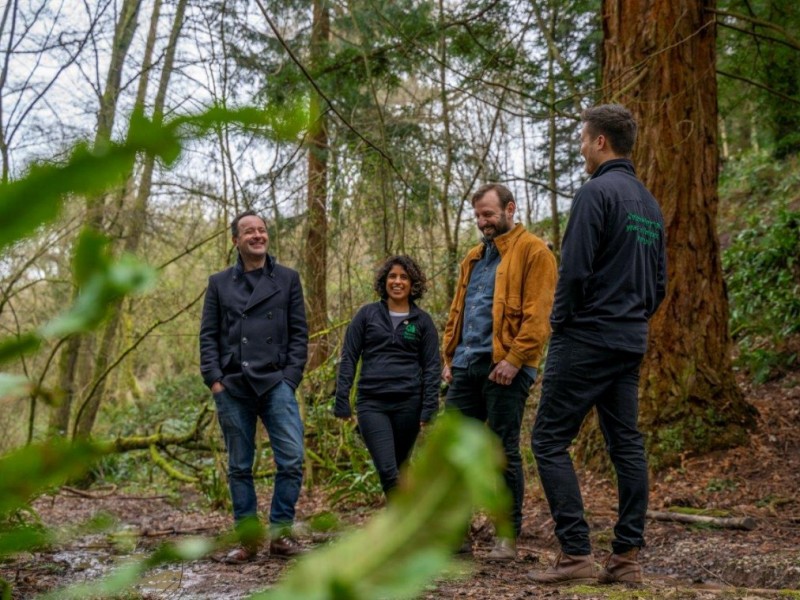 « Back to news
Pieminister joins forces with Forestry England this summer to plant a new forest
30 July 2021
Pieminister, the independent, family-run business with a branch at the Five Valleys indoor market, is redoubling its efforts in terms of sustainability, setting a series of ambitious goals to hit by 2025.
These include growing its award-winning plant-based product range. If you buy their plant-based patties and pies this summer you'll help fund a Forestry England forest: the more plant-based products sold, the more trees Pieminister will be able to fund.
To help Pieminister plant as many trees as possible, head to your local Pieminister at the Five Valleys Market or order home delivery via Good Sixty and try something from their growing plant-based range.
As well as the best-selling Kevin, Mooless Moo and Mock-a-doodle, the Evergreen is available all summer too. Green by name and green by nature, it's packed with kale, spinach and edamame, lightly cooked in ginger, garlic and lime zest. A 2020 Great Taste Award 3-star winner, this pie came in the top 1.6% of the 14,777 products entered.
And if you haven't already you should try the plant-based patties too. Folded in a golden saffron pastry, Chana-rama and Holy Chipotle make a great summer snack, hot or cold.
As well as plant-based patties and pies, the restaurant menu has heaps of delicious plant-based sides too. From the famous festival-inspired Mothership (your favourite pie piled high with mash, gravy, peas, 'cheese' and shallots) to the Mother Earth (mash, garden peas topped with a parsnip & kale fritter). Enjoy your meal with a bottle of Pieminister's 5% vegan lager and 5% of the sale will also go straight towards the forest too.
your purchase will generate a donation from Pieminister directly into this new forest fund. A donation of 10p from every plant-based pie or two-pack of patties (or 5p per individual patty) will go towards planting and maintaining the forest. Pieminister hopes this campaign will encourage consumers to switch their favourite meat pie for a plant-based alternative, even if only occasionally.
To plant this woodland for future generations to enjoy, Pieminister has partnered with Forestry England, an organisation which cares for more land and trees than any other in the country. Forestry England has been shaping landscapes for people, wildlife and nature for over a century and Pieminister is excited to be able to draw on its immense knowledge and expertise, ensuring that this new forest is created with sustainability at its heart.
Foresters are already busy planning which species of trees will be best suited to Pleasant Farm's soil and climate while providing a rich diversity of habitats for wildlife. Recreation facilities will be factored in too, ensuring there is space for people to seek adventure and find escape.
Jon Simon, Pieminister Co-founder says,
"We want to help consumers consume sustainably which is why we're increasing the number of plant-based products we make. Eating less meat and planting more trees are two simple things we can all do for the health of our planet, so we're delighted to bring these two actions together this summer through Eat Pies: Plant Trees. And we couldn't be happier to be doing this in partnership with Forestry England. They've been caring for forests for over a century, so we know they're the people to plant and nurture our new forest for generations to come."
This campaign runs from April to September 2021 and all the proceeds raised through plant-based patty and pie sales, 5% lager sales and refill take-out donations will go directly to Forestry England, for the planting of a new forest in England. Visit www.pieminister.co.uk/forest to find out more.
NOTES TO EDITORS
For more information and images, contact Romany Simon on 07793 403107 or email her on romany.simon@pieminister.co.uk
For information about Forestry England, please contact media@forestryengland.uk
Pieminister: Inspired by the pie shops they frequented while travelling in Australia, Jon Simon and Tristan Hogg decided they wanted to revive the once-great British Pie on their return home. So, in 2003 the two friends opened a small pie-shop and kitchen on Stokes Croft in Bristol and Pieminister was born. They soon gained a great reputation for making delicious pies and helped revolutionise a flagging pie industry with exciting recipes, excellent quality, ethical ingredients, great branding and a knack for making exceptionally good pastry.
Pieminister has been making pies in Bristol ever since. A local family business (Jon and Tristan are now brothers-in-law and both their sisters work for the business too), their ingredients are responsibly sourced, and all of their growing range of vegan patties and pies carry the trusted Vegan trademark and are registered with the Vegan Society. To read about Pieminister's sustainability goals in full and track progress, visit www.pieminister.co.uk/sustainability.
Forestry England manages and cares for 1,500 woods and forests for the nation. As England's largest land manager, we shape landscapes for people to enjoy, wildlife to flourish and businesses to grow. www.forestryengland.uk
For further information, contact:-
Public Relations Department, Dransfield Properties Ltd
Tel: 01226 360644
Email: admin@dransfield.co.uk